 
Period & Incontinence Underwear Bikini Style

Protection in Bikini style - this panty is almost invisible and sexy at the same time. With full protection where it matters.
With patented leak proof seams!
This panty is waterproof, leak and stain-resistant for women and young girls to wear when they have their period or light incontinence issues. When worn in conjunction with a pad or tampon, Vv SkiVvys offers the total backup protection. The "Rochelle Sporty Low Rise" Bikini is available in Pink or Tan.
The Rochelle Sporty "Low Rise" Bikini is made of soft, waterproof, breathable hypoallergenic fabric. The outside of the panty is cotton/lycra. There is a breathable, waterproof, hypo-allergenic inner lining and a poly/lycra lining, with a cotton crotch. There is a ¾" wide soft elastic waistband proudly displaying the Vv Skivvys logo.
Panties are true to size, there is no need to order a size larger than you normally wear. This style is designed to give you a fit that is comfortable and stylish. Whether you're wearing jeans or business attire.
Please choose your size from the following table (we recommend to measure!):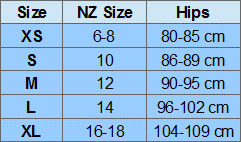 Customers who bought this product also bought: